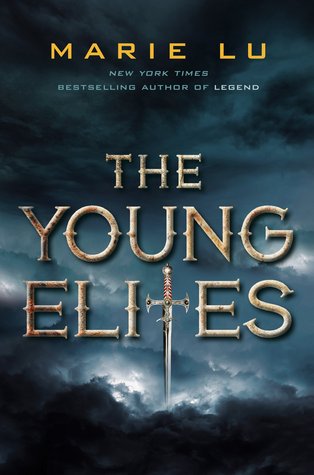 Title: The Young Elites (The Young Elites #1)
Author: Marie Lu
Release Date: October 7, 2014
Publisher: G.P. Putnam's Sons Books for Young Readers
Pages: 355
Source: Bought from Chapters Indigo
Synopsis:
I am tired of being used, hurt, and cast aside.
Adelina Amouteru is a survivor of the blood fever.
A decade ago, the deadly illness swept through her nation. Most of the infected perished, while many of the children who survived were left with strange markings. Adelina's black hair turned silver, her lashes went pale, and now she has only a jagged scar where her left eye once was. Her cruel father believes she is a malfetto, an abomination, ruining their family's good name and standing in the way of their fortune. But some of the fever's survivors are rumored to possess more than just scars—they are believed to have mysterious and powerful gifts, and though their identities remain secret, they have come to be called the Young Elites.
Teren Santoro works for the king.
As Leader of the Inquisition Axis, it is his job to seek out the Young Elites, to destroy them before they destroy the nation. He believes the Young Elites to be dangerous and vengeful, but it's Teren who may possess the darkest secret of all.
Enzo Valenciano is a member of the Dagger Society.
This secret sect of Young Elites seeks out others like them before the Inquisition Axis can. But when the Daggers find Adelina, they discover someone with powers like they've never seen.
Adelina wants to believe Enzo is on her side, and that Teren is the true enemy. But the lives of these three will collide in unexpected ways, as each fights a very different and personal battle. But of one thing they are all certain: Adelina has abilities that shouldn't belong in this world. A vengeful blackness in her heart. And a desire to destroy all who dare to cross her.
It is my turn to use. My turn to hurt.
My Thoughts:
I really enjoyed this book. I really needed to know what was going to happen next. It was fast paced; something was always happening and that made it very interesting for me. I mean, in a world where you get the blood fever then if you survive you (more than likely) get superpowers is out of the ordinary and I loved the concept. It sparks so many questions like why do some people get marked and others don`t? Why do people get the powers they do and etc.
In The Young Elites, Adelina is physically and emotionally abused from her father and this scarred her. She does not want to be used. Majority of the time all she feels are negative emotions: anger, hurt and most of all hatred towards everyone who have used her. I have to say my favourite quote in the book: "To love is to be afraid. You are frightened, deathly terrified, that something will happen to those you love. Think of the possibilities. Does your heart clench with each thought? That, my friend, is love. And love enslaves us all, for you cannot have love without fear."

Perfect!
Adelina as a character was very different to me. She was fragile yet strong, scared but determined, good but evil growing inside of her. She is unpredictable and sometimes you really didn't know what she would do. Adelina and her powers are a variable hardly anyone could control; even she could not control it. I found myself feeling for Adelina. I mean I am not saying I condone some of the things she did but I can definitely understand her a little. There are a lot of plot twists in this story and the end nearly broke my heart. This story grabs your attention. The story is kind of told from the villain`s POV which is unique. I'm not sure if I have read a book from a villain's POV but it sure is interesting to see how they think.
After reading the epilogue all I have to say that the next book is going to be awesome with some new characters joining in. I really NEED the next book. October is such a long time to wait *wails**
4 out of 5 stars